The first time we rode on an electric bike on a wonderful autumn day in October 2009, we rode from Interlaken to the Lauterbrunnen Valley and knew instantly: this is it!
We discovered a way to combine three of our favorite likings:
Our fascination for the beauty of the mountains and lakes in the Jungfrau Region
Our love of sports and activities in the nature
Our vocation to provide an unforgettable holiday for guests from all over the world
With our company Flying Wheels we hope to help you, dear guests, to explore the Jungfrau Region in a lively, happy but also appreciative way. Suitable for any age group, come and try out the new type of bicycle and 'fly' with us. It is a relaxing and fun way to discover the endless variety of the Jungfrau Region.
Miriam Wette and Frank Stein, owners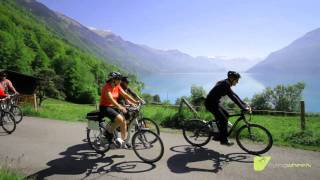 Impressum:
FLYING WHEELS GmbH
Hoeheweg 133
3800 Interlaken
Switzerland
Owner: Miriam Wette and Frank Stein
Telephone: +41 33 557 8838
Mobile: +41 76 567 0818
email: info@flyingwheels.ch