The "E" in E-Bike stands for "E"lectric. E-Bikes are bicycles with pedals which are equiped with an electric motor and a battery. They work like a regular bicycle, means you still have to pedal and there is no throttle, but once you start pedaling, the electric motor kicks in and gives you a "boost".
You can decide yourself how much boost you want: set the boost to "low", and it makes your bike ride easier but you still have a good excercise. Set the support to a medium level, and you can go for miles and maintain an average speed which without the motor would make you break into a sweat. Or set it to "turbo" and the motor will just zip you up any incline! And of course you can completely shut off the support and use the e-bike like a regular bicycle. All this is done with a tip of your finger and as often or as less often as you like. You could e.g. turn off the support on flat grounds, but activate the level of support you want once it comes to inclines.
But "E" as well stands for "E"njoy. Believe it or not: E-Bikes make you smile! The easiness of riding an e-bike can't be described, it can only be experienced. Find out yourself why we call it "Biking, the easy way!".
The video gives you a good introduction what an e-bike actually can do for you: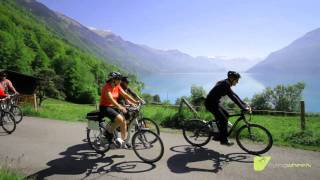 We are happy to welcome you here in Interlaken!
Your Flying Wheels Team